Project Type: Complete Residential Renovation
Location: Paute, Ecuador   
A small, 20 x 20 Casita lies in an Ecuadorian river valley.  DESIGNlinkup proposes to completely renovate the house and add on approximately 800 square feet of living space whose form is driven by the topography that surrounds the site.
EXISTING CONDITIONS
Ecuador – The site lies in a river valley between two mountain ranges that run north and south. Paute, a small city of approximately 25,000, sits across the river upstream approximately 5 km north. Azuay the province in which the site is located, was created 25 June 1824. It encompasses an area of 7,998 square kilometres (3,088 sq mi). Its capital is Cuenca. It is located in the south center of Ecuador in the highlands. Its mountains reach 4,500 m (14,800 ft) above sea level in the national park of El Cajas.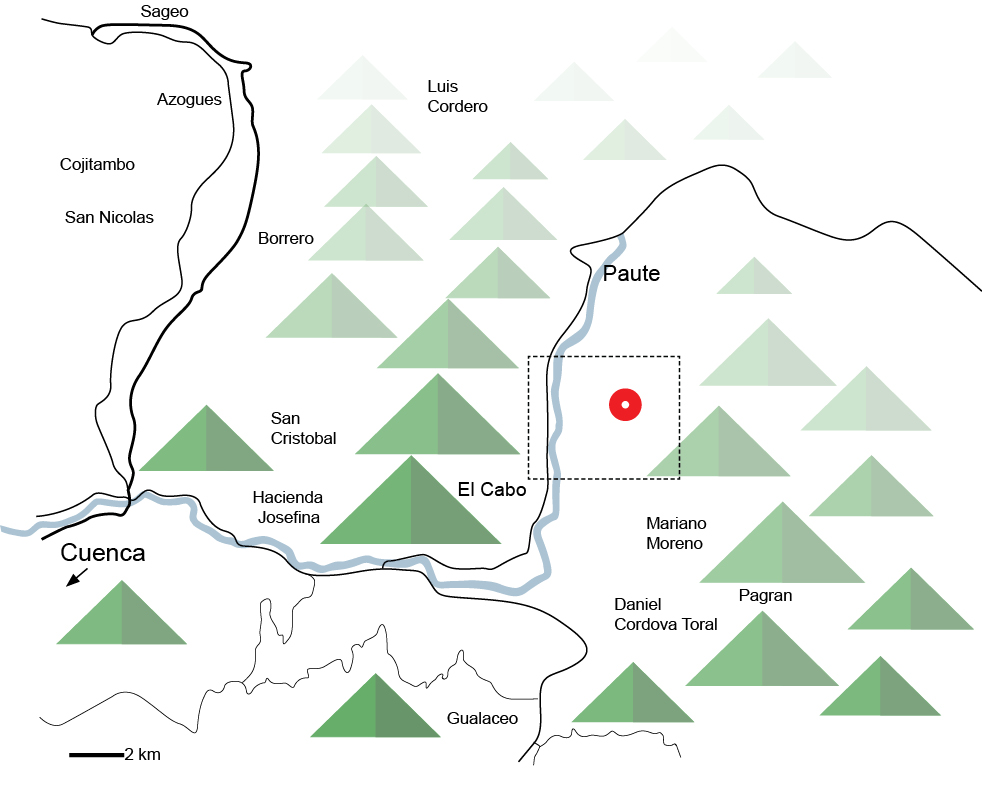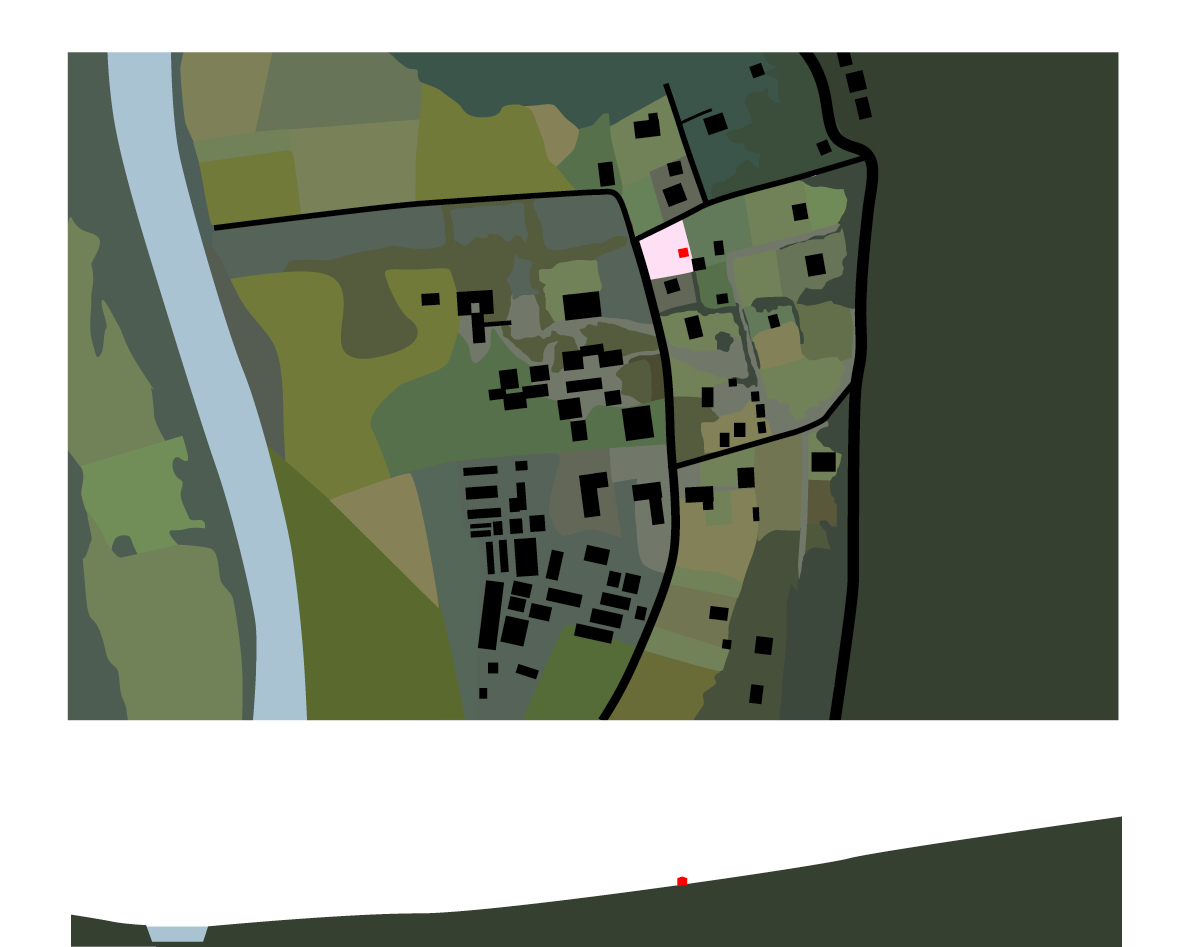 WEATHER
The site is located approximately 2 degrees south of the Equator. The temperature tends between 60 and 70 degrees, cool in morning with high fog, burns off mid morning, can get quite warm during the day, rarely humid, but can have torrential rains in afternoon that pass generally quickly. According to the client, "We do get a breeze occasionally in the afternoon that comes up from the river valley northeast. It cools down at night so that you have to wear a sweater or light jacket. Daylight is gone at 6:30 pm, no long summer days. At 6:30 in the morning it gets light, always the same. No real dislikes about the weather."
Nestled in a manicured garden of fruit trees and flowering trees and shrubs, this cozy cottage is surrounded by 1200 sq. ft. of outside porches, offering breathtaking views of the surrounding mountains. There is a large, tiled terrace adjacent to the house with a thatched bar-b-que patio. The property is across the road from one of Southern Ecuador´s most prestigious resorts called Hosteria Uzhupud. The resort is well-known for hosting international orchid seminars. The half-acre lot has three water sources and is 25 miles from Cuenca. The elevation of 7,200 feet. Safe, peaceful neighborhood and gorgeous setting.
SITE CONDITIONS
The site slopes from east to west with an estimated fall of 5 ft over 30 ft horizontal.  There is no slope from south to north.
[nggallery id=4]
EXISTING STRUCTURE
The existing casita is a cabin measuring 20 X 20 ft and is a kit-house of knotty pine, metal poles on the verandas (south, north and east side) with red eucalyptus floors.  It sits under a roof line measuring up to 1200 sq ft with a central roof line measuring 13 ft from floor to peak and two side roofs measuring 11 ft tall.  The roof is simple corrugated asbestos sitting on steel and wood rafters.

[nggallery id=3]
"We would like to expand the cabin to around 1000 square feet and more or less leave the roof lines in tact or perhaps raise the middle roof by 12 inches or so.  We prefer at the moment for it to be a one level house with a feeling of indoor/outdoor living, although the suggestion has been made to go up a level for a private bedroom and bath and more views of mountains behind and in front of the house."
The client envisions the house to be more or less like a Northwest longhouse with a strong Japanese and Ecuadorian (Spanish) influence. We want a combination of natural wood windows/Japanese sliding or folding doors and stucco/brick covered walls and wooden rafters perhaps with bamboo or wood between the rafters.
We would like the following: open kitchen to living room area; two bedrooms with 1 combining full bathroom with tub, one social bathroom (toilet and sink only); living room opens to the North side patio with Japanese sliding doors opening to patio; a free-standing fireplace and a skylight covering the length of the roof peak.  We were also thinking of having some colored glass (perhaps blue) between the roof peaks at both ends.  Marc we were thinking of that Steven Holl chapel in Seattle where they use colored reflective light (you showed it to us). We are considering keeping the red eucalyptus flooring, but not sure about that.  Red eucalyptus is somewhat rare and it would be nice to recycle it somehow.
We do need a wall between our house and the house behind it to block of noise and for privacy (with some high windows to let in light- West side).  We have considered extending the kitchen area into the driveway towards the Northside of the driveway so there would be a possible view of patio, mountains and gardens.  A possible design that appeals to us is a U shaped house with an interior courtyard.  Regarding the Ecuadorian elements, we have included some pictures that depict the use of adobe walls, wooden beams and use of stone, tiles, and hand carved pillars.
These are some of the ideas that we are considering, however we are open to new ideas.  We want elegance and simplicity.
 PROPOSED CONCEPT

The existing house is a 20'x20' box surrounded by a covered Patio.  Half (east) of the existing house would become support, to free up the west side facing patio for functionality that wants to be connected to the outdoors.  The new space on the north side of the existing house is the Living Room, appropriately linked to the Patio.  The bar on the south side is comprised of two bedrooms and a full restroom.  The master bedroom sits on the west side to connect it with the views and covered patio.
Each of the new "wings" have breathing room separating them from the original building.  This transition allows for compressed circulation space between the three elements which enhances the expansive feel of the new volumes.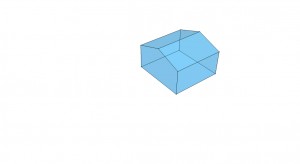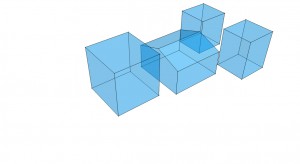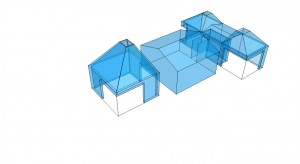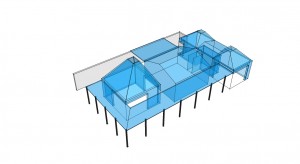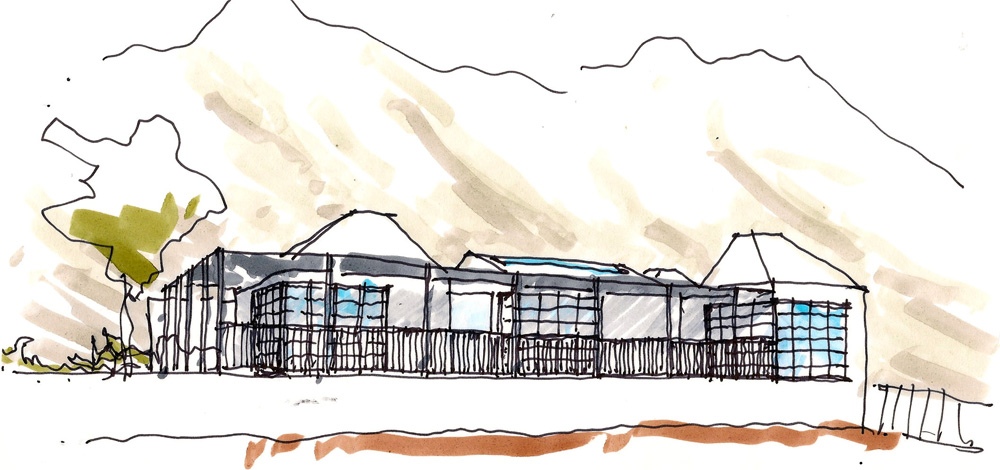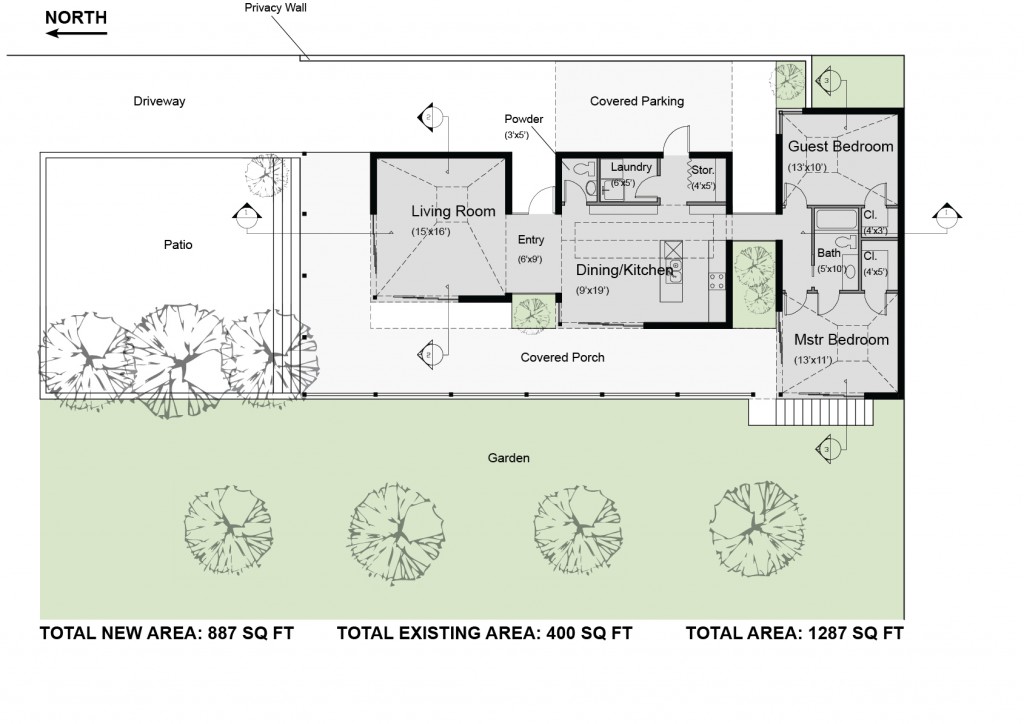 This concept does quite a few things.
1) Simplified roof (shed roof concept).  Still allows high light to enter space.  Still gestures to the natural forms surrounding the site.
2) Restroom is moved closer to front door per request of client.
3) Living Room is on same level with patio.
4) Dedicated studio space.
5) Private garden.